When Marnie Was There: Recalling 思い出のマーニー part 1 by shinya1996
---
Recalling 思い出のマーニー
Half a year has passed since the movie "思い出のマーニー" was released.
Recently the traffic to this blog has fell dramatically, so if you are reading this, you must really have far too much free time like Marnie.
The last update I made about Marnie was in September of last year, but I still love the free spirit of Marnie so much that I ended up reading the original English text and Japanese translation several times.
I realised there were quite a few things I had misinterpreted about the book in the past, and more things about the book I'm discovering now. So I thought, it's now time to write about When Marnie Was There again.
I initially tried to write this post in a slightly serious manner, but when I read it over I thought, this is too stiff, I don't feel like reading this. So I instead chose to write this with a loose, scattergun approach.
Based on When Marnie Was There
The original title of 思い出のマーニー is When Marnie Was There, published in England in 1967.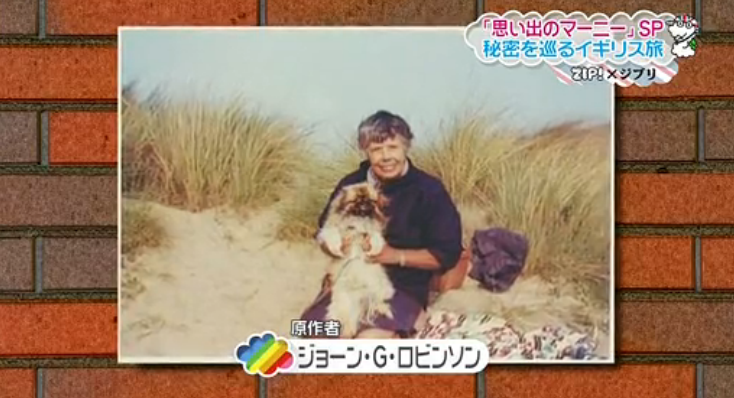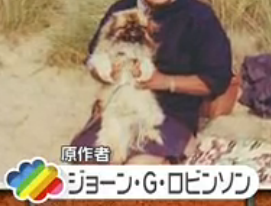 What's that? Oh sorry, my mistake. This is the author.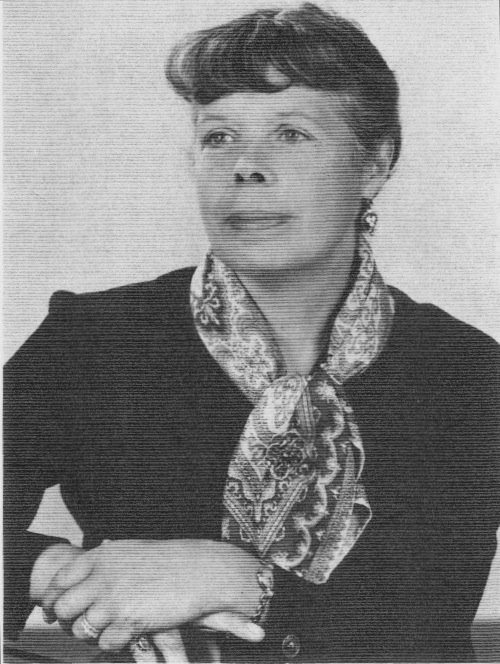 Originally the title of the novel was supposed to simply be Marnie.
However, a few weeks before its publication, the Alfred Hitchcock's film of the same name was released, so the title was changed to When Marnie Was There. At least, that's how the story goes in the postscript of the book.
Really though? When I checked Wikipedia, the Hitchcock film was released in 1964, three years before the novel was published. What's up with that? The postscript seems to have been written by her daughter in 2002, after the authors death. Maybe there is something wrong with my memory. Or was it published in England in 1967?
The main character, Anna, is British. She lives at 25 Elmwood Terrace in London. I tried to find this address, but it seems to be fictitious.
In the novel, Anna took a train from Liverpool Street Station in London.
This is Liverpool Street Station today.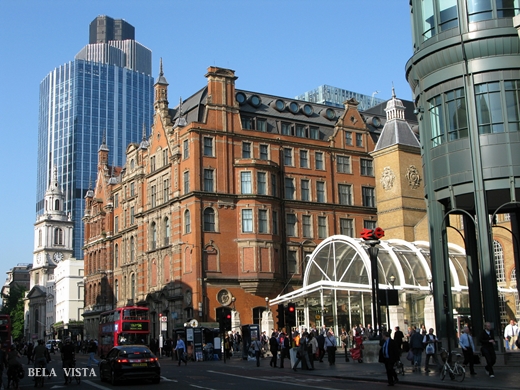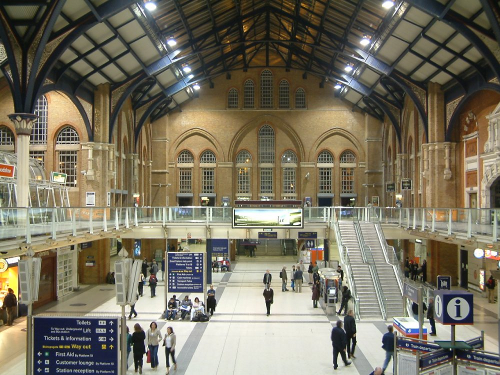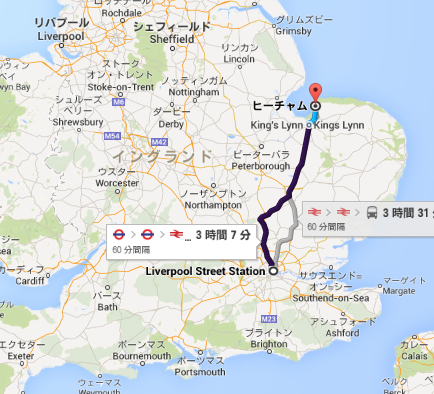 During the journey, she transfers at King's Lynn to head to Heacham
It seems today that there is currently to railway running from King's Lynn to Heacham. According to Wikipedia, Heacham Station was closed on May 5, 1969. Anna came to Heacham only a few years before it was abandoned.
This is Heacham Station.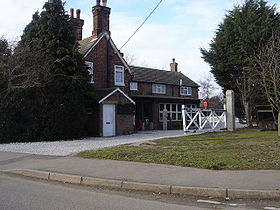 Aunt Pegg came to Heacham and took Anna on the bus. The two headed to Little Overton. Little Overton is a fictional town, but was modelled on Burnham Overy. Takes about 30 minutes by car, and an hour by bus.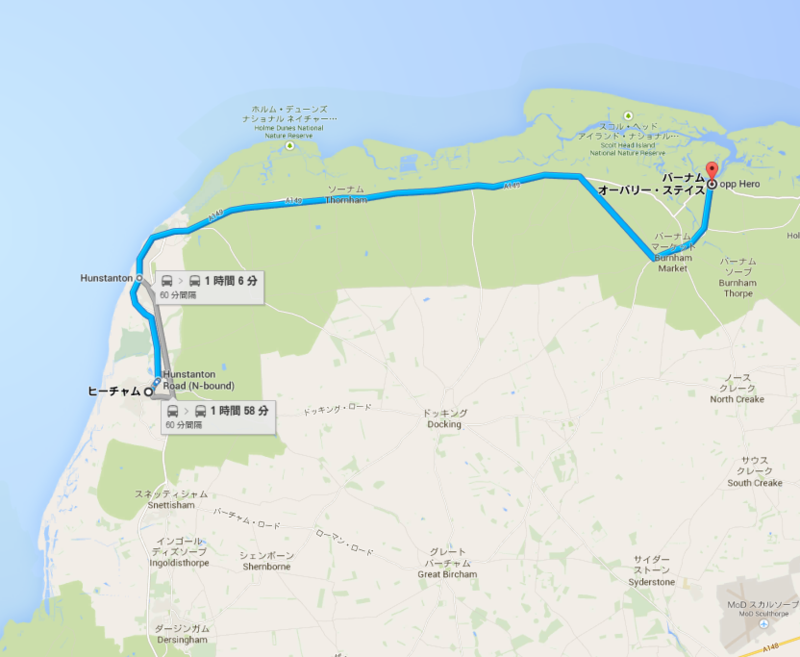 The author loved Burnham Overy, and came to the village with her family every summer. This is Burnham Overy, where you can find the building that the mansion Marnie lived in was modelled on.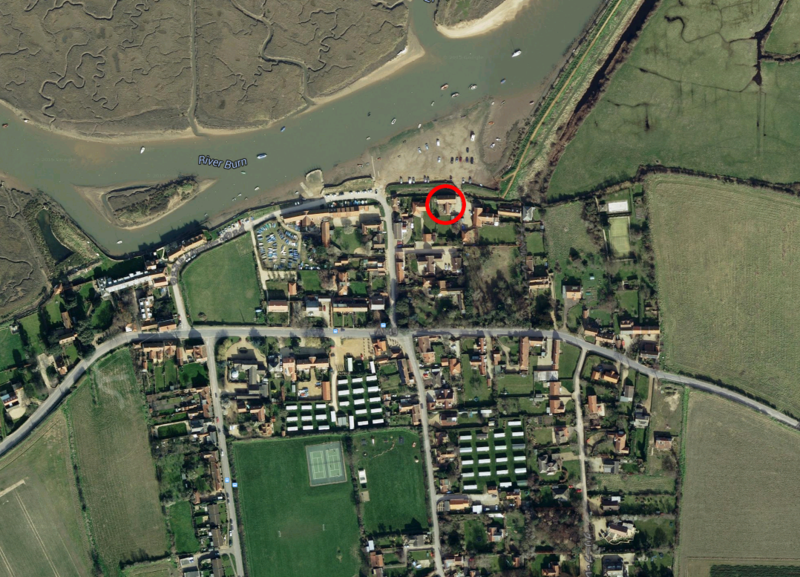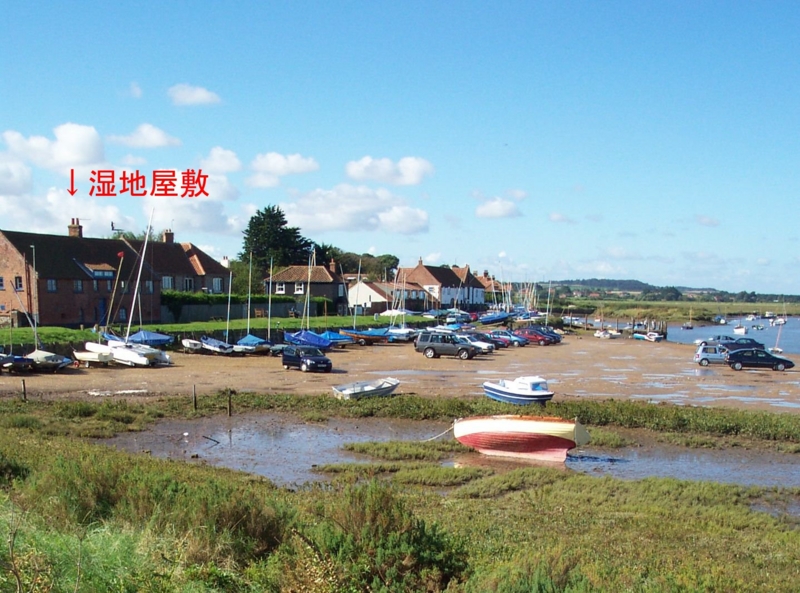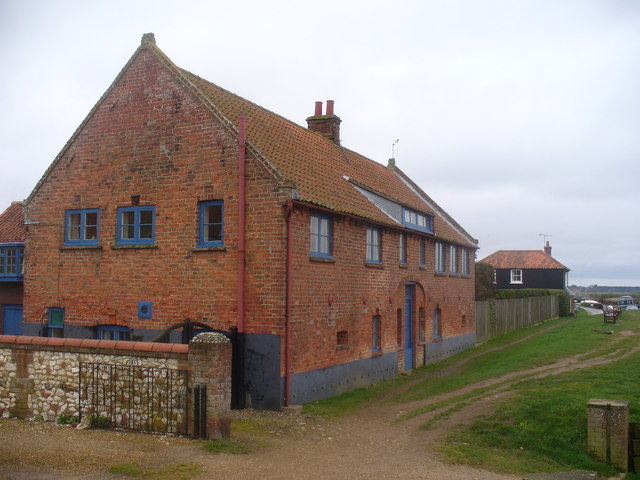 It's a building with impressive blue window frames. This building is now a grain elevator. When the author walked by the front of this warehouse, she saw a blonde girl brushing her hair in the window, which prompted her to write this novel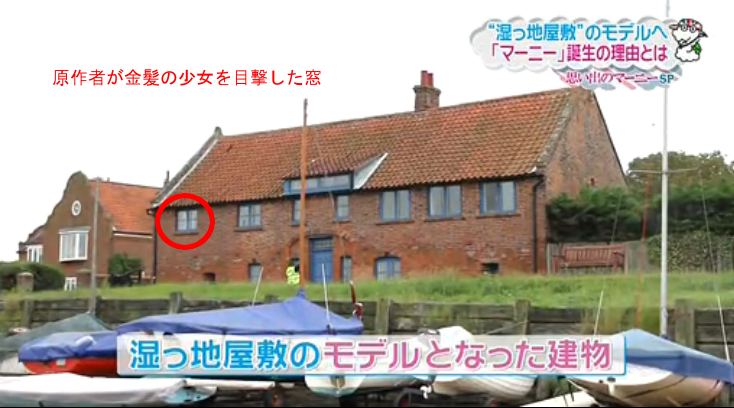 By the way, the author's grave is also in Burnham Overy.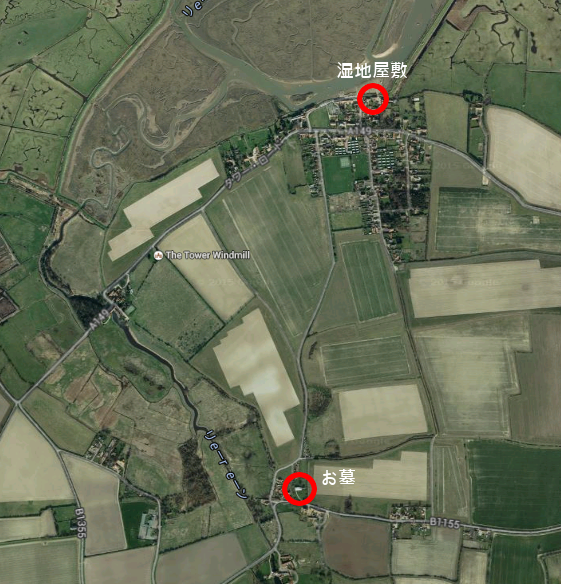 In the center left is the windmill, labelled The Tower Windmill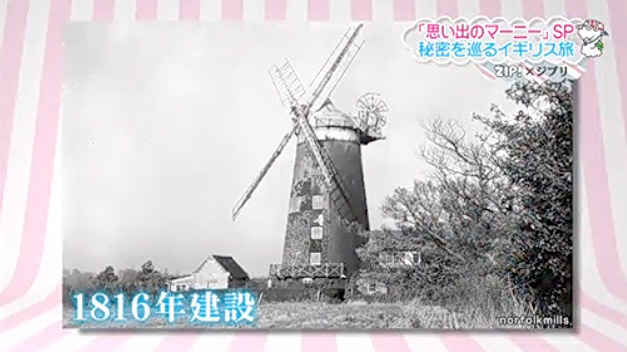 It seems it was originally used to grind flour, but now it's used as a cottage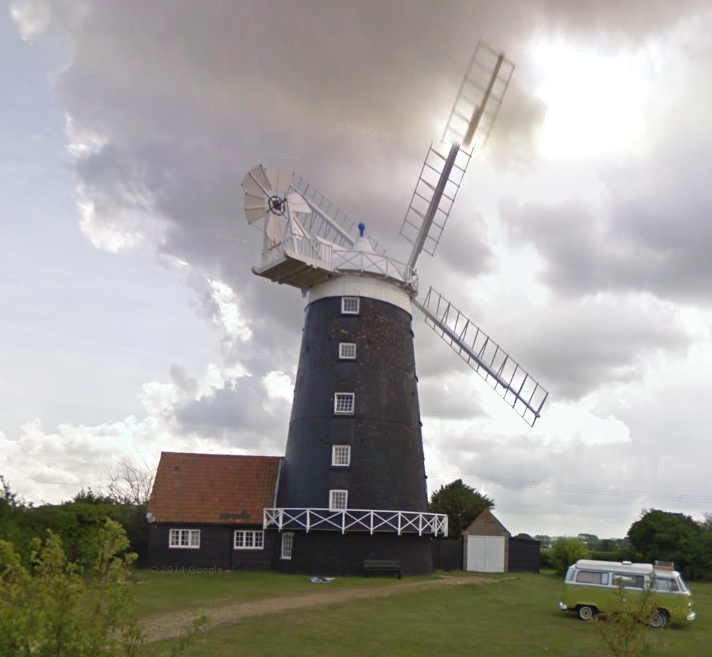 Of course the novel's setting is ultimately imaginary, but here is some scenery recreated from 思い出のマーニー.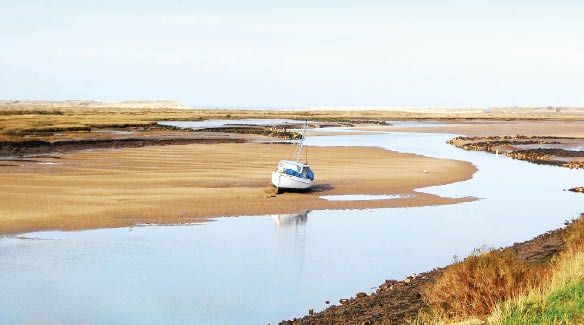 The original Anna
What I find most impressive from reading the original story is that Anna's personality is a little different from the movie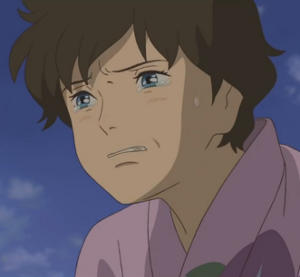 I've posted this table on my blog before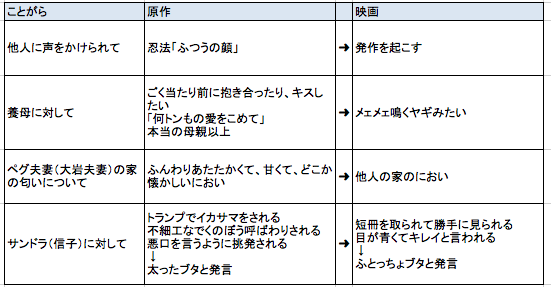 As you can see from this, Anna in the movie made expressions as if she has others instinctively, while in the novel she didn't.
Rather, she is affectionate to others, and at the bottom of her heart, wants to get along with other people.
Chapter five gives a glimpse into her psychology.
If she really got to know them, and they her, all that would be spoiled. They would be like all the others then – only half friendly. They, from inside, looking curiously at her, outside – expecting her to like what they liked, have what they had, do what they did. And when they found she didn't, hadn't, couldn't – or what ever it was that always cut her off from the rest – they would lose interest. If they then hated her it would have been better. But nobody did. They just lost interest, quite politely. So then she had to hate them. Not furiously, but coldly – looking ordinary all the time.
Anna in the book doesn't seem to dislike people. Nevertheless, anyone who gets to know Anna loses interest in her.
Why is that? The reason is unclear to Anna. It's not they dislike [her], it's just that [she] can't expect everyone to be impressed by [her], as if [she otherwise?] were wearing the Pebble Hat from Doraemon.
Anna began to interpret this experience as being on the outside of an invisible magic circle, concealing the disappointment of not being able to get along with others by making an ordinary face
Instead of being angry, she is cold. As if she wasn't interested in other people from the beginning
This is the ordinary face Anna uses to hide her emotions in the original work, but it's described like this.
Immediately Anna drew herself up stiffly and put on her 'ordinary' face
Is she literally wearing her ordinary face?
Here, it seems more than a facial expression. It's more like a mask that she readily puts on.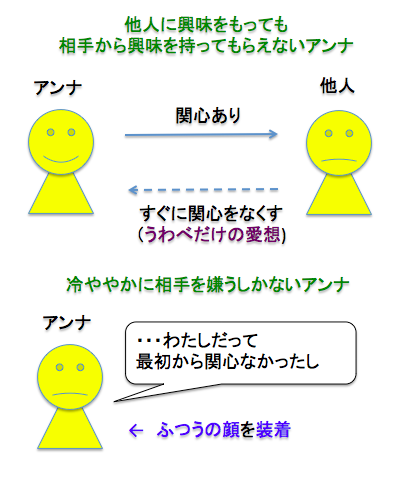 Mrs Preston
Anna is a girl that isn't loved by anyone.
But even Anna has one exception; Mrs Preston, her foster mother.
Anna can love Mrs Preston because she recognises she thinks of her as her own child.
However, after learning she was being paid child support, a thorn was struck into Anna's heart.
Perhaps Mrs Preson's love isn't as sincere as she may have thought.
I started to think so myself.
Perhaps having learned the existence of the child support payments, she became depressed around six months prior to the beginning of the story. Anna speaks of having recently adopted a not even trying attitude to life, and how she spends most of her day thinking about nothing.
In the book, Anna's simultaneous love and suspicion of Mrs Preston wreaks havovc with her.
Here is the beginning of the original.
MRS PRESTON, WITH her usual worried look, straightened Anna's hat. "Be a good girl," she said. "Have a nice time and – and – well, come back nice and brown and happy." She put an arm round her and kissed her goodbye, trying to make her feel warm and safe and wanted. But Anna could feel she was trying and wished she would not. It made a barrier between them so that it was impossible for her to say goodbye naturally,
I've written about this before, thinking Anna just doesn't like the unnatural experience of this interaction. Not so. Here, Anna is worried that Mrs Preston's affection is artificial and not sincere.
They would be like all the others then – only half friendly.
Perhaps Mrs Preston is like everyone else [to Anna]?
The idea is, in Anna's mind she creates this suspicion that makes it impossible to believe anyone's affection to her.
Although, immediately after this, Anna's heart does lighten up for a moment.
It was when the train began to move off, and Mrs Preston suddenly started running with a grieving, clinging face.
I could feel something from Mrs Preston's appearance that made Anna's heart a little lighter, with Anna leaning out of the train and shouting Goodbye, Auntie!
Anna arrives at Little Overton, and promptly writes a postcard to Mrs Preston.
She makes an effort to write it heartfelt, writing with lots of love instead of the usual with love.
But the small questions that came to mind became ever-growing, and Anna wasn't sure if she could always be kind to Mrs Preston.
Anna is stronger than in the movie
One of the notable differences between the movie and the book is that Anna in the book is quite solid [stable?].
Anna in the movied is extremely autistic and unstable in the mind, saying things such as I get a seizure just talking to another person, I don't want to talk to a person I don't want to meet, and I momentarily break[down] if I don't think about the future. Anna of the original is a little more [emotionally] mature.
First of all, see how she converses with other people in the original. I can't find any moment where she refuses is becomes frightened of talking with other people
When Aunt [sic] Pegg instructed her to go out to buy bottles and vinegar, she was happy to comply.
And when she does quarrel with the fat pig Sandra, even then she shows efforts to reconcile herself, just as Aunt [sic] Pegg advised her.
Anna is stronger here than in the movie. By the way, she was 12 in the movie, but how old in the original?
A hint is the age of the Lindsays: Andrew is about 14, Matthew seems to be 7 or 8, and Priscilla is younger than Anna.
If Andrew, the eldest son, is 14, Jane is 13 or younger. If Matthew is 8 years old, then Priscilla is over 9 years old.
If Anna is younger than Jane and older than Priscilla, wouldn't Anna be between 10 and 12? She's possibly younger than in the movie then
Nothing was any good
What found completely different between the novel and the movie was the scene where Anna sheds tears.
In the novel, Anna wept because of her bad relationship with Sandra.
Due to the bad relationship between Anna and Sandra, Mrs Pegg couldn't visit Sandra's mother, but I don't think she cried for the guilt.
Just as ever, Anna didn't even had the expectation of making friends with Sandra from the beginning.
This is because she accepts that she stands outside the invisible magic circle the separates her from Sandra.
However, Anna made herself unhappy because of her own attitude.
Whether she gets along with Sandra or not, she still hurts herself, if not others.
She can't do anything anymore.
Nothing was any good – Anna least of all.
This desperate feeling seemed to be what was flowing down Anna's cheeks as hot tears.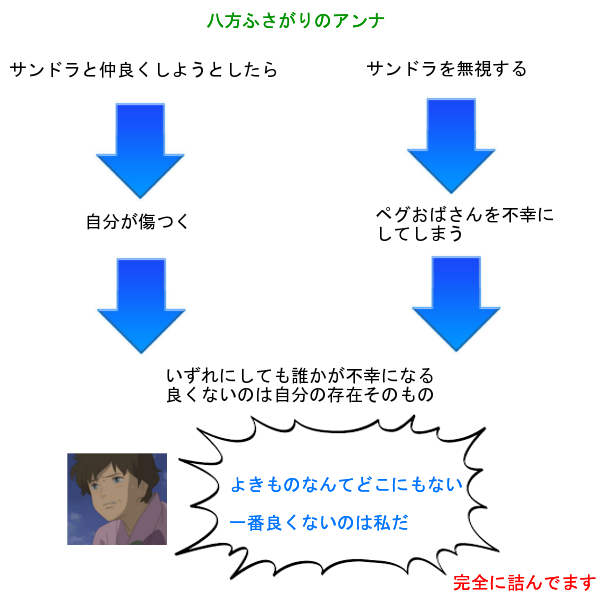 ---